Pains aux raisins / raisins pastry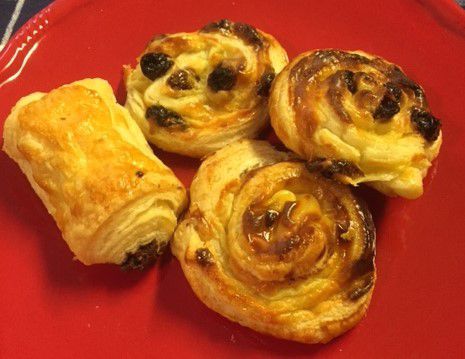 Ingredients:
Puff pastry: 600g
1 egg yolk
Water: 10 ml
For the cream:
Milk: 250 ml
1 egg
powder sugar: 50 g
wheat flour: 25 g
1 vanilla pod
dark rum: 10 ml
raisins: 100 g
Preparation of the recipe:
For the cream:
Split the vanilla pod in two and take away the seeds, then boil the milk with the vanilla.
Mix the eggs and sugar until they become white. Add the flour.
When the milk boils, add the preparation, then remove the vanilla pod. Stirring constantly, cook for a few moments until thick.
Pour the cream into a bowl and cover with film. Then let it cool for 1h. 2. For the raisin bread
Dip the raisins in rum for 20 minutes, then drain.
Preheat oven to 180 ° C (th. 5).
Dilute the egg yolk with a little water.
Cut the puff pastry into strips about 20 cm wide.
Using a metal spatula (or spoon), spread the cream all over the puff pastry (5 mm thick), then add the raisins on the cream, and roll the pastry tight.
Place the roll (closure side below), then cover with the egg yolk and water preparation with a brush. Then, cut the roll into small discs (2 to 3 cm wide).
Place the discs on oven paper sheet and bake for 15 minutes.