Quinoa taboulé - gluten free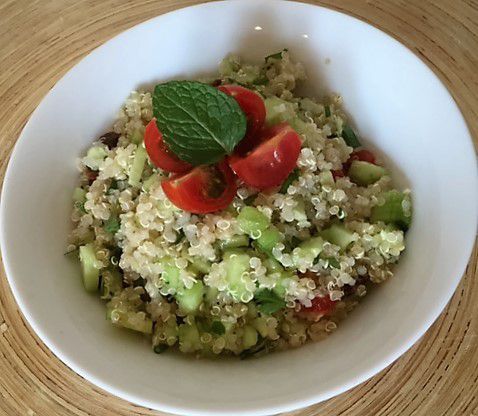 This taboulé is easy to make and fresh, perfect for a light summer salad!
Ingredients (6 to 8 persons)
200 g quinoa
150 g cherry tomatoes
4 small cucumbers
20 g raisins chives mint
1 lemon
3 tablespoons olive oil
Salt, pepper
Preparation of the recipe:
1. Rinse the quinoa with cold water.
2. Pour the quinoa in a saucepan, add water and bring to boil. Simmer 15 minutes until tender.
3. Rinse and cut the tomatoes in 4. Rinse the cucumber, remove the seeds and peel, then cut into small cubes. Rinse the herbs, remove the stems and chop the leaves.
4. Remove the quinoa from heat, strain well and pour into a bowl and let it cool by mixing with a fork.
5. Add tomatoes, herbs and oil. Wash the lemon, wipe and thinly grate the zest of half the lemon in the bowl. Cut the lemon, squeeze the juice and pour into the bowl. Mix, add the raisins, salt and pepper and store a few hours in the fridge before serving.