Rhubarb and apple crumble - gluten free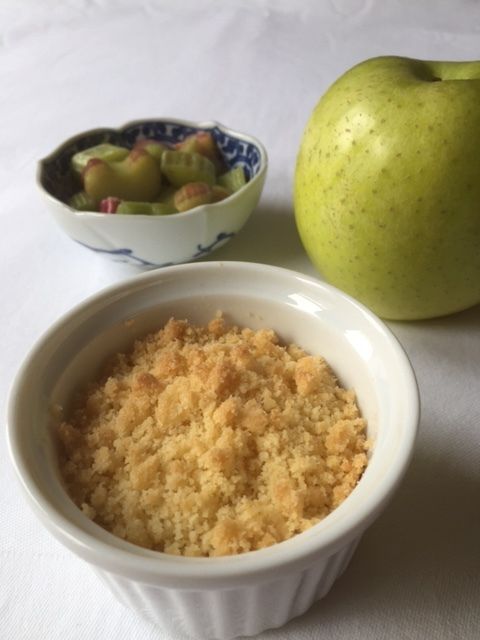 Here is one of my favourite desserts... Perfect with whipped cream or vanilla ice cream and a good italian espresso!
Ingredients : (serves 6 to 8 persons)
- For the filling: 200 g of rhubarb (frozen or fresh) 3 or 4 big apples 40 g sugar cinnamon
- For the crumbs: 120 g wheat flour (or 60g rice flour + 60g almond powder for gluten free recipe) 50 g of dried coconut 100 g of sugar 100 g butter, cut into small cubes 1 teaspoon cinnamon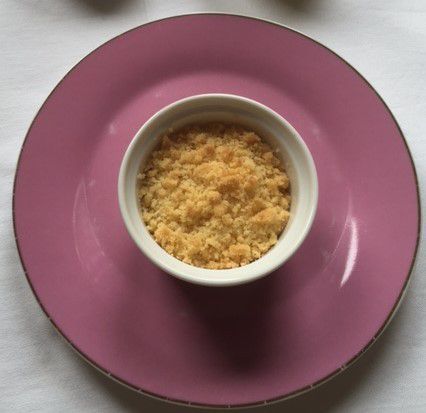 Preparation of the recipe :
1. Peel and cut the rhubarb into pieces if you use fresh rhubarb. For frozen rhubarb, defrost in a pan on low fire and add the sugar. 2. Peel the apples, remove the seeds and cut them into small cubes. Add them to the rhubarb and cook for 3 minutes. 3. Place the fruit preparation in a baking dish and spread with cinnamon. 4. Preheat your oven to 180 °C. 5. Then mix the flour, sugar, butter and coconut, using your fingertips to make crumbs. You might need to add more flour to make the crumbs easyer to form, if the dough is too sticky. 6. Cover the apples and rhubarb with this preparation. 7. Bake for about 25 minutes if you use a big baking dish, or up to 20 minutes if you use individual dishes, until the top turns slightly crispy and golden. 8. Let cool and eat with whipped cream or vanilla ice cream.