Mimosa eggs with tuna and chives - Gluten free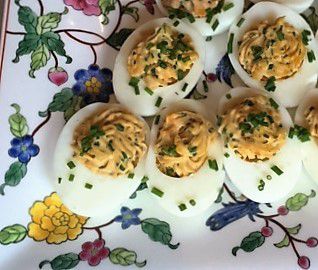 Ingredients (serves 6 persons):
6 eggs 1 teaspoons Dijon mustard 3 tablespoons mayonnaise 125 g of drained tuna flakes in water 1 tablespoon balsamic vinegar chives salt and pepper
Preparation of the recipe
1- Cook the eggs in boiling water for 10 minutes until they are hard. Peel them and cut them in half lengthwise. Take the yolks in a bowl. 2- Prepare the mimosa stuffing: mix together mayonnaise, mustard, 2 pinches of salt. 3- Mix with a fork the drained tuna, the egg yolks and vinegar. Add mayonnaise and mix well. 4- Chop the chives. 5- Fill the halves of egg whites with the mimosa stuffing using a piping bag. Sprinkle with salt, pepper, and chopped chives.
Enjoy with lettuce or tomato salad!