Salmon, spinach cream and Béchamel lasagna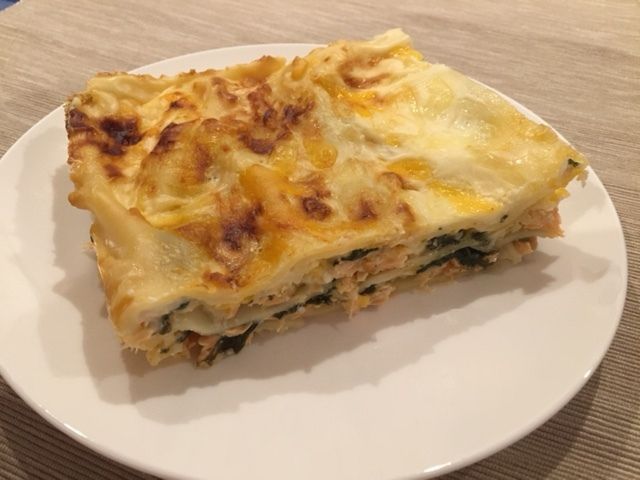 Here is a new version of the famous italian dish transformed with spinach, salmon and Béchamel sauce!
Ingredients (serves 6 to 8 persons):
- 500 g spinach
- 100 ml fresh cream
- 500 g salmon precooked baked and crumbled
- 1 pack lasagna pasta
- 150 g grated cheese
- Béchamel sauce: 60 g butter, 60 g flour, 600 ml milk
- salt and pepper
Preparation of the recipe :
1- Béchamel sauce: melt the butter in a saucepan. Remove from heat and add the flour. Add half the milk and stir well. Heat again and add the remaining milk. Let the mixture get thicker, stirring constantly. Remove from heat and add 2 piches of salt.
2- Cook the spinach in boiling water, drain and mix them with the cream. Add salt.
3- Cook the noodles in boiling salted water for 4 minutes and drain. Check that they do not stick together and place them on a flat surface.
4- Then, in a lightly oiled rectangular baking dish, place:
1 layer of pasta / 1 layer of salmon / 1 layer of chopped spinach / a little grated cheese / 1 layer of béchamel sauce.
5- Repeat once (or more if there is enough left).
6- Finish with a layer of lasagna pasta covered with bechamel and grated cheese. You can dilute first the bechamel with a little milk.
7- Bake 20 to 30 minutes at 180 ° C.