Broccoli cappuccino with croutons and bacon - Gluten free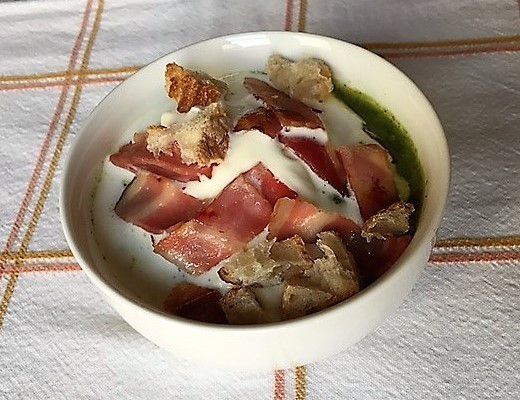 Ingredients (for 6 people):
- 3 bunches broccoli
- 1 potato
- 1 glass cooking water broth
- 100 ml fresh cream
- 100 g croutons (hard bread cut in small squares) - Use gluten free bread for gluten free recipe!
- 100 g bacon
- salt pepper and cumin
Preparation of the recipe:
1. Wash the vegetables, peel the potato and cut them all in small pieces. Cook them altogether in salted boiling water for 15 minutes.
2. When vegetables are cooked, remove from heat, drain the water and mix with a blender. Add salt, pepper and cumin (one teaspoon max).
3. Cut the bacon in small slices and place it in a dish with the croutons, spread with thyme or herbes de Provence, and bake in the oven for 5 minutes (180°C).
4. Whip the fresh cream.
5. Pour the soup in small bowls (not too warm or the cream wil melt), add 1 tablespoon whipped cream and then the croutons and bacon on top. Serve warm.