Chicken blanquette - Gluten free
This dish is very famous in France for family gatherings. "Blanquette" comes from the word "blanc" = white, the colour of the sauce. Blanquette is usually made with veal, chicken or porc.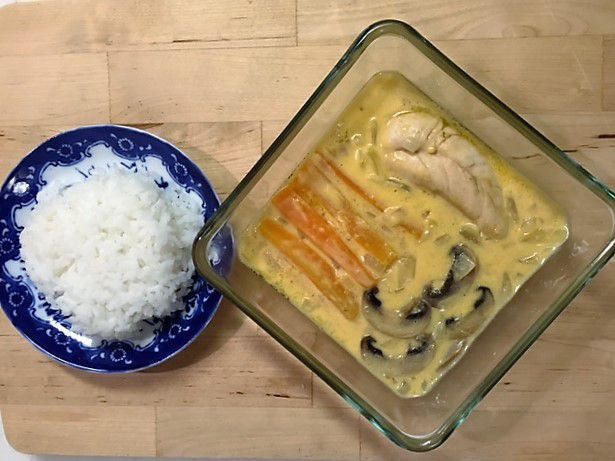 Ingredients (6 to 8 people):
- 600 g chicken
- 150 g mushrooms
- 1 onion
- 3 carrots
- 50 g of butter
- 30 g flour (wheat or rice for gluten free recipe)
- 1 egg yolk
- Juice of 1/2 lemon
- 2 spoons fresh cream
- salt and pepper
Preparation of the recipe :
1. In a large saucepan, boil 1.5 liter of salted water. When the water starts to boil, put the chicken pieces and cook for 15 minutes.
2. In a pan melt 20 g butter, add the onion cut in small cubes and simmer on low fire.
3. Remove chicken from the fire, take it out of the water and add it to the onions. Keep the water.
4. In a saucepan melt the rest of the butter, add flour and mix. Then gradually add half the water to make a smooth sauce.
5. Add this sauce to the chicken and onion, add the mushrooms, carrots (peeled and cut into small sticks), salt and pepper. Simmer over low heat for 20 minutes.
6. In a bowl mix the egg yolk with the cream and lemon juice.
7. To serve, drain the vegetables and chicken with a big spoon, place in a serving dish.
8. Pour the eggs, cream and lemon mixture into the pan and mix for one minute over low heat and then pour the sauce in the serving dish over the chicken and vegetables. Sprinkle with black pepper and serve immediately with rice or pasta.