Tapenade sun tart (tarte soleil)
This is the most beautifull finger food on the market!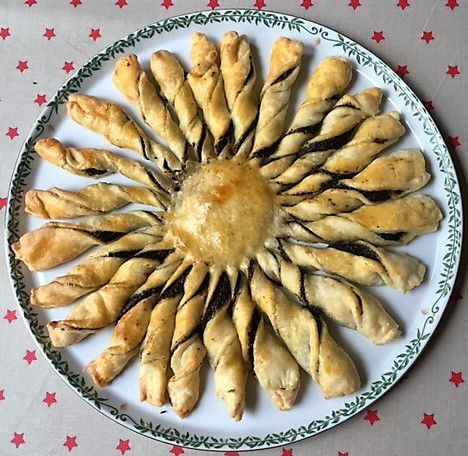 Ingredients (serves 6 to 8):
- 150 g of black olives without kernel
- 25 g capers
- 2 or 3 of anchovy fillets
- 50 to 100 ml of olive oil depending on the quality of the olives (we do not want the mixture too liquid!)
- 2 slices puff pastry
- 1 egg yolk mixed with a few drops of water
Preparation of the recipe :
1. For the tapenade: Mix the olives and capers and anchovies previously drained.
2. Add the olive oil in the puree and mix well in the blender. Add salt and pepper.
3. Roll the 2 pieces puff pastry into a nice round shape (same size). Spread the tapenade on the puff pastry, leaving 1cm free on the edge of the circle. With your fingers, spread a few drops of water on the edge.
4. Place the other puff pastry on top and stick together the edges, pushing with a fork.
5. Place a small glass upside down in the middle of the circle. Cut 16 slices starting from the glass. Twist each slice 1/2 turn, 2 times. Take the glass away.
6. Spread a thin layer of egg yolk with a brush (for the golden color).
7. Place in the fridge for 10 minutes. Cook in preheated oven for 25-30 minutes. Eat warm!

You can try this beautifull tart with pesto, cheese and bacon, chocolate, ...