Mushroom bechamel tart - Gluten free
This one comes right from my childhood memories of Autumn in the french countryside. We used to pick as many mushrooms as we could carry in the fields and prepare them alltogether for dinner. Happy memories!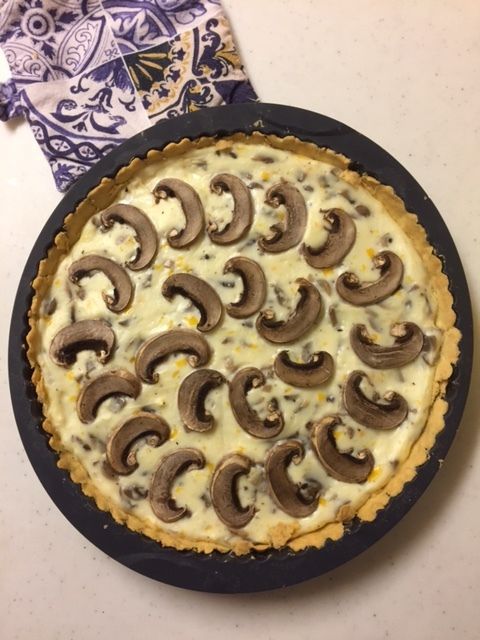 Ingredients
- 200g button mushroom
- 100g grated cheese
- 500ml milk
- 50g softened butter
- 50g corn starch
- salt, pepper, garlic powder
- for the pastry:
100g butter,
70g almond powder,
70g gluten free baking mix,
70g rice flour, salt, water
Preparation of the recipe
1- Wash the mushrooms, take off the stem and cut in thin slices. Keep a few slices for decoration. Cook the rest in a pan with the garlic powder and a drop of olive oil for 5 minutes and drain them (some water may come off while cooking).
2- Prepare the bechamel sauce : melt the butter in a pan. Add the corn starch and mix. Add the milk and mix over low fire untils the sauce gets thick. Add the grated cheese, the cooked mushrooms and salt and pepper, and mix well.
3- Prepare the pastry: mix the butter with almond powder, add the baking mix, then rice flour. Add a few drops of water and mix with your fingertips until you obtain a dough.
4- Spread the dough in a pie dish (you can use oven paper in the bottom of the dish an easy removal). Fill with the bechamel sauce preparation.
5- Decorate with the rest of the mushroom on top and cook for 30 to 35 minutes in preheated oven (180°C).