Try your best St Valentine present with a delicious french touch!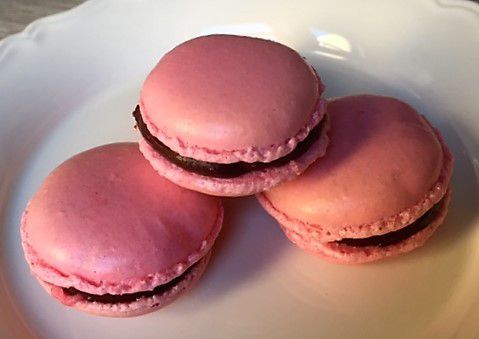 Ingredients (for around 15 macarons):
- 2 eggs whites
- 148 g icing sugar
- 84 g almond powder
- 20 g caster sugar
- 1/2 teaspoon of red food coloring powder
Preparation of the recipe :
1- Mix the icing sugar with the almond powder in a blender until powdery.
2- Whip the egg white in a mousse and add the 10 g of sugar previously mixed with the food coloring. Mix until the whites are firm.
3- Add the icing sugar and almonds powder to the previous mixture and turn gently with a spatula.
4- Fill a piping bag with the macaroon paste and make small round macarons on a silicone rectangular dish and let rest for 15 min.
5- Preheat the oven to 140°C with an oven tray inside to heat.
6- Place the silicone dish on the oven tray and bake for 10 min. Open briefly the oven after 5 minutes to let the steam go out.
7- Once cooked, remove the silicone dish from the oven, and let the macarons cool. Delicately remove them from the dish, lifting them up with a knife.
8- Now you just have to stuff your macarons with your favorite ganache. Store in the fridge before eating.
For a chocolate ganache, mix 30 g powder chocolate and 25 g soft butter.
You can also use strawberry jam, or coulis, or crème au beurre.
More ideas and recipes for the ganaches to come...
Enjoy!!