Orange and almond cream tart - Gluten free
This one is a great blend of the famous almond cream (frangipane in french) and the delicious taste of orange marmelade, so comforting in winter.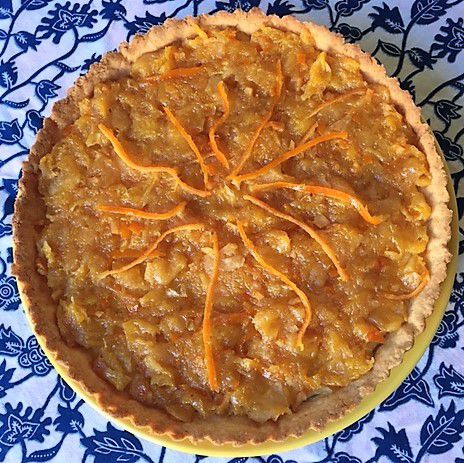 Ingredients
Sweet pastry:
- 80 g almond powder
- 80 g rice flour
- 80 g gluten free baking mix
- 110 g soft butter
- 3 spoons sugar
- 1 small teaspoon of salt
Almond cream:
- 1 egg
- 75g soft butter
- 75g almond powder
- 60g brown sugar
- 30g rice flour
Orange marmelade
- 4 oranges
- 40g sugar
- 200ml water

Preparation of the recipe
1- Wash the oranges, peel them and cut in small cubes. With a spoon scrape the skin of one orange to take off the white part. Cut the orange skin in small pieces and cut a few thin and long slices for decoration.
2- Cook the orange skin for 10 minutes in boiling water with 40g sugar. Add the orange cubes and cook for another 10 minutes until slightly caramelized. Let cool.
3- Prepare the sweet pastry: Cut the butter into cubes. Mix the almond powder, rice flour and baking mix. Add salt. Mix the sugar and the butter cubes. Add the flour mix and mix with your fingertips (add water if needed) until you get a firm ball. Place in a tart dish.
4- Prepare the almond cream: mix the butter with sugar and egg, add the almond powder and flour, and mix well.
5- Pour the almond cream in the sweet pastry and cook for 20 minutes in preheated oven (180°C). Let the tart cool outside of the oven and spread the orange marmelade on top. Add the orange slices for decoration. Place in the fridge for at least 1 hour before serving.
This tart is great with coffee!