Dijon mustard grilled chicken and pink beets purée 
Ingredients (serves 6 to 8):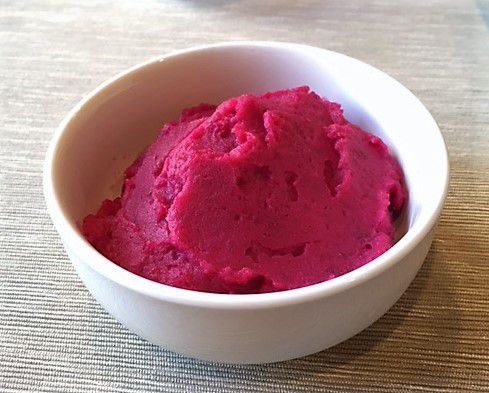 - 600 g chicken
- 200 ml fresh cream
- ½ lemon juice
- 2 tablespoons Dijon mustard (or mustard "à l'ancienne")
- salt and pepper
Beets purée:
- 125 g canned beets
- 600 g potatoes
- 50 to 100 ml milk
- 15 g butter
- salt, pepper
Preparation of the recipe :
1- Peel and boil the potatoes until soft (10 to 15 minutes).
2- Drain the beets and mix in the blender with the milk.
3- Mash the potatoes with the butter and salt and pepper.
4- Mix with the beets and add salt if necessary.
5- Grill the chicken in a frying pan with a little olive oil. Add the lemon juice 2 minutes before the cooking ends. When the chicken is cooked enough, take it out of the pan, lower the fire and add the cream and mustard in the pan and mix well the sauce (add a little water if needed). Add salt and pepper. Serve the chicken warm with the sauce and beets purée.