Green tapenade on toast (perfect for hanami season!)
Here is a wonderfull spread for spring and summer apéritif! Delicious with a good red or rosé wine. The perfect choice for a nice picnic by the sakuras!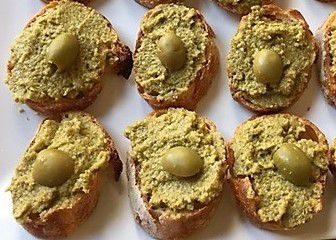 Ingredients (serves 6 to 8):
- 150 g of green olives without kernel (+ a few more for decoration)
- 20 g capers
- 2 or 3 anchovy fillets
- 60 to 80 ml of olive oil (depending on the consistency of the olives)
- 1 baguette (French bread)
Preparation of the recipe :
1. Drain the olives, capers and anchovy. Mix the olives and capers and anchovies in a blender.
2. Add little by little the olive oil in the puree and mix well in the blender. Add salt and pepper.
3. Spread on thin baguette slices that you can previously toast. Decorate with olive halves, fresh basil leaves or a tiny slice of lemon!