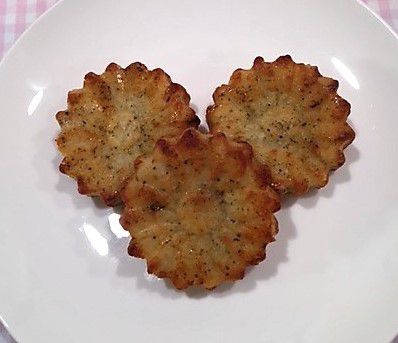 Ingredients (serves 6 to 8):
- 700g potatoes
- 100g grated cheese
- 3 tablespoons olive oil
- 1 tablespoon Provence herbs
- 1/2 tablespoon thyme
- Salt and pepper

Preparation of the recipe :
1. Peel and cook the potatoes in boiling water for 10 minutes, until soft. Take them out of the water.
2. Mash the potatoes. Mix with the olive oil, cheese, herbs, salt and pepper.
3. Place this preparation in muffin molds (silicon is preferred), not too thick or the galettes will not be crispy enough.
4. Cook in preheated oven (180°c) for 30 to 40 minutes (until crispy).
5. Take the galettes out of the molds and eat warm.
You can add small bacon cubes to this preparation before cooking, great combination!