Caramel lace decoration for ice creams or fruit verrines - gluten free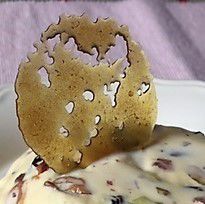 This is a very nice sweet and crispy decoration for your desserts. In french we call it caramel dentelle.
Ingredients (serves 6 to 8 persons)
- 10 g butter
- 60 to 80 g sugar (depends of the size of the dish)
Preparation of the recipe :
1- Spread a silicone tray or oven paper with soft butter.
2- Cover the butter with a thin and even layer of sugar. All the surface must be covered.
3- Use a cookie cutter to make shapes on the butter and sugar layer.
4- Cook in preheated oven (180°C)on the warm oven tray for 6 to 15 minutes. Watch carefully after 5 min cooking and take out of the oven as soon as the sugar gets melted and golden.
5- Wait that the caramel gets cold and hard, then take delicately each shape and place it on the cake or ice cream just before serving.