My Grandma's ratatouille - gluten-free
Ratatouille is typical from Provence (south-west of France).
My Bonne-Maman (the way I used to call my grandmother) used to prepare it very often in summer. We ate it the day after, cold, mixed with rice and black olives and with 1/2 boiled eggs on top. I loved it!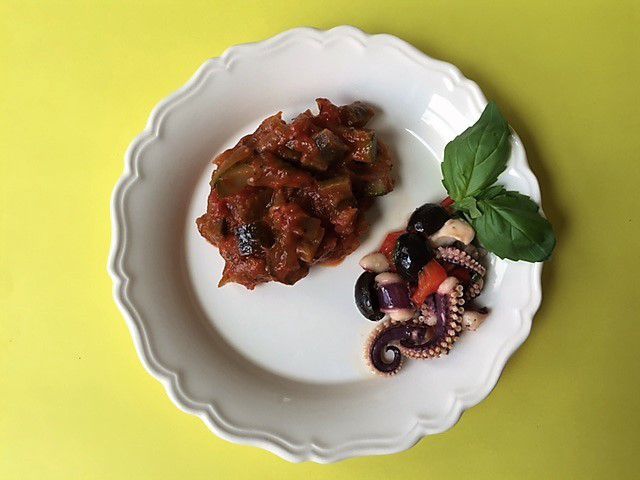 Ingredients (serves 8 to 10 people):
-3 zucchini
-3 long eggplants (or 5 short)
-2 tomatoes
-150 ml tomato sauce
-1 onion
-1 clove garlic
-20 ml olive oil
-10 g sugar
-Provence herbs
-Salt and pepper
Preparation of the recipe
1-Peel and chopp the onion, then cook it with the chopped garlic for 4 to 5 minutes with a drop of olive oil in a pan.
2-Wash the vegetables. Cut the eggplants, tomatoes and zucchini in small cubes (you do not need to peel them). Add the vegetables in the pan with the onions, add the tomato sauce, salt and pepper, and Provence herbs. Add one glass of water and 10 g sugar. Mix well.
3-Cook for 45 minutes on a mild fire stiring every 5 minutes.