Nougat glacé - gluten free
Nougat is a very famous sweet from Provence, made with almonds and tons of sugar and honey! My Nougat glacé is inspired by the famous sweet, using vanilla ice cream, and can be served with red fruits coulis or strawberries for example.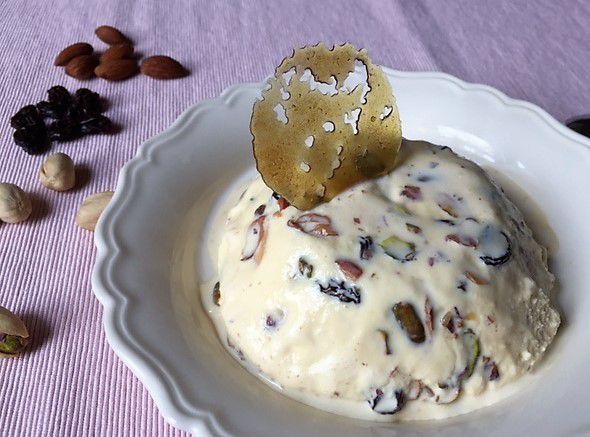 Ingredients (serves 6 to 8 persons):
- 40 g almonds
- 50 g pistachios (weighted with their shell)
- 40 g raisins
- 40 g sugar
- 1 l vanilla ice cream
Preparation of the recipe :
1- Dip the raisins in a little cold water. Prepare the pistachios (take the shells off) and almonds: heat the almonds and pistaccios in a frying pan for 1 to 2 minutes. Add the sugar and cook until it melts and mix constantly to coat the seeds with melted sugar (=caramel). Stop the fire when the caramel is lightly brown. Place the seeds flat on a plate and let them cool. Take the ice cream out of the freezer so that it becomes soft and easy to mix.
2- Put the seeds in a ziplock and break them with a pestle (2 or 4 pieces for each seed, not powder!). Drain the raisins.
3- Mix the seeds and raisins with the vanilla ice cream and place the mixture in serving dishes or plastic molds (then you wil unmold the ice cream just before serving). Place back in the freezer for at least 2 hours before serving.