Provencal Marinated squid - gluten free
This dish is perfect with ratatouille!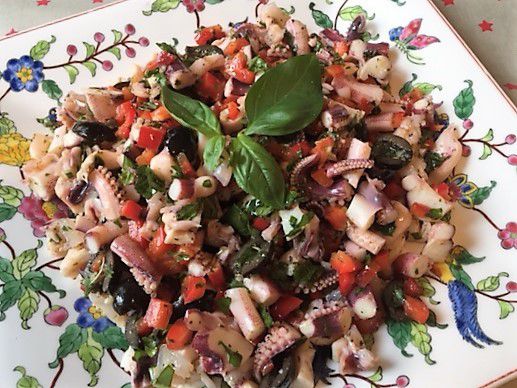 Ingredients (serves 6 to 8 people)
- 500 g fresh squid
- 1 redbell pepper
- 50 g black olives
- 1 leave laurel
- ½ clove garlic
- fresh basil
- 50 ml olive oil
- 1 lemon juice
- salt and pepper
- Provence herbs
Preparation of the recipe
1- Rinse the squid in cold water. Cook in hot water (not boiling) for 20 minutes with salt and the laurel leave.
2- Drain the squid and cut it in small slices. Cut the olives in half and add them with the squid. Add the crushed garlic, half of the chopped basil leaves, lemon juice, salt and pepper and olive oil. Let marinate for 2 hours, mixing every 15 minutes.
3- Serve cold with the rest of the chopped fresh basil on top.