Jenny's eggplant patties - Gluten free
Here is a very popular dish in our family. The recipe was given to me by our very good friend Jenny from the Philippines where she used to cook it for her family.
Thank you Jenny! ;))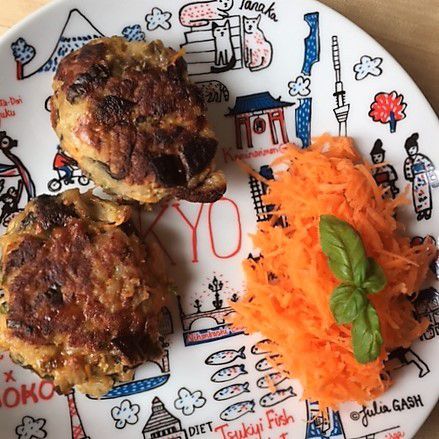 Ingredients
- 3 long eggplants
- 2 carrots
- 200 g pork minced meat
- 1 egg
- spring onions
- 3 tablespoons grated cheese
- 4 tablespoons rice flour
- cumin or curry powder, garlic powder (or fresh)
- 3 tablespoons soy sauce
- optional: 40 g precooked rice

Preparation of the recipe
1- Wash the eggplants and cut them in small cubes. Cook them in salted boiling water for 5 minutes until they get a little soft. Stop the fire and drain until they are dry. Peel the carrots and grate them very thin.
2- In a big bowl mix the eggplants, carrots and meat. Add the egg (previously beaten), spring onions, grated cheese, spices and garlic, soy sauce and rice.
3- Add the rice flour and mix well. Make round patties with your fingers and place them on a plate. You can add rice flour if the patties are too sticky.
4- Place a pan with oil on the fire. Fry the patties on both sides in the oil making them a little flat for them to cook quicker.
5- Serve warm with Dijon mustard and a tomato salad or lettuce.