Sweet potato and chicken Parmentier
This dish is named after Antoine Parmentier, a French pharmacist, nutritionist, and inventor who, in the late 18th century, promoted the potato as an edible crop and important ressource to feed the country.
We use the "Hachis-Parmentier" reciepe very often in french cuisine, with different ingrédients (beef, chicken, fish, topped with mashed potatoes, or carrots, or sweet potatoes.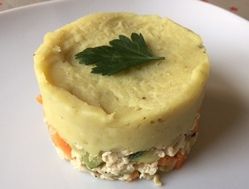 Ingredients (serves 6 to 8 people):
1 kg sweet potatoes
100 ml milk
400 g minced chicken breast or leg
1 zucchini
1 carrot
1 onion
2 tablespoons olive oil
Salt and pepper
2 teaspoons cumin powder or indian curry spice
30 g grated cheese (for the gratin version)
Preparation of the recipe
1-Wash and peel the sweet potatoes. Dice them and cook in salted boiling water fo 15-20 minutes until they are soft. Drain.
2- Mash the sweet potatoes and mix with the milk and 1 tablespoon olive oil until you get a smooth purée. Add salt and pepper.
3- Peel and chopp the onion. Fry the onion with 1 tablespoon olive oil for 5 minutes. Wash and peel the vegetables, dice them and fry them with the onion for 2 minutes. Then add the chicken and fry for 5 to 7 minutes, until the chichen is softly cooked. Add spices, salt and pepper.
4- Place the vegetables and chicken in a pastry circle, and add a layer of sweet potato purée, delicately take the circle off and serve warm with fresh italian parsley or basil on top.
5- Or you can place the vegetables and chicken in a baking mold. Add the sweet potaoes on top in a flat and even layer and finally spread with the grated cheese.
6- Bake in the oven for 10 to 15 minutes before eating to get a gratin with a nice golden melted cheese layer on top.