Pear and kiwi tart (gluten free)
This fruit tart can be adjusted to all your most loved season fruits, just looks great, and tastes even better!
Feels like you're just coming back from your favourite patisserie in Paris with a "magnifique" sunday dessert...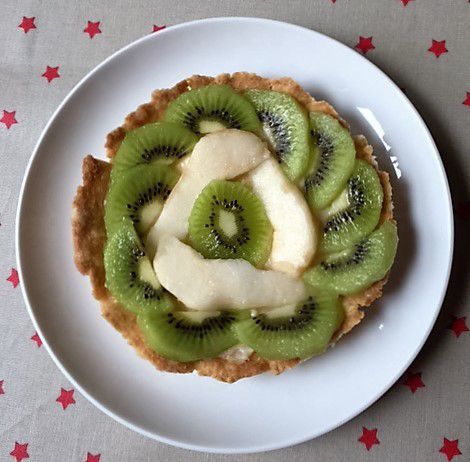 Ingredients (serves 6 to 8):
Pastry
- 80 g almond powder
- 80 g rice flour
- 80 g gluten free baking mix
- 110 g soft butter
- 3 spoons sugar
- 1 small teaspoon of salt
Fruits
- 3 or 4 kiwis
- 3 pears
Custard (crème pâtissière)
- 1 liter of milk
- 100g of corn flour
- 100 g sugar
- 4 egg yolks
- 3 drops of vanilla extract

Preparation of the recipe:
Pastry
1. Cut the butter into cubes. Mix the almond powder, rice flour and baking mix. Add salt. Mix the sugar and the butter cubes. Add the flour mix and mix with your fingertips (add water if needed) until you get a firm ball.
2. Place in a tart dish (with oven paper in the bottom of the dish if needed) and cook in preheated oven (180°C) for 10-15 minutes.
Custard
3. Mix the egg yolks with the sugar. Add the flour and mix well. Add 1/2 glass of milk to the mixture.
4. Heat the rest of the milk. When the milk is warm (after 3-4 minutes) add the previous mixture (egg / flour / sugar / milk). Add vanilla extract. Mix on low heat until the preparation becomes thick then stop the fire.
Fruits
5. Peel, take away the seeds and cut the pears into thin slices. Peel the kiwis and cut in round slices. Keep one slice for the center of the tart and cut the other slices in halves.
6. Spread the custard inside the precooked pastry, make it nice and flat.
7. Add one slice kiwi in the center, place pear halves around and end with a few kiwi halves to cover the custard. Your tart is ready to eat! You can store it in the fridge.